To simply put it Asia IT expo is one of those expos in India where companies that cater to different types of consumers- both for pleasure and for business- by displaying their current hardware, software and the stuff in between. This is usually a 3 day event, however event managers Asian Business Exhibitions & Conferences LTD. silently cancelled the event with barely 3-4 days of notice to those who have made arrangements to make a display.
What was supposed to be hosted as the 6th Edition of Asia ITEX is now "re-scheduled" to another cite next year. But as some Public Relations folks told me, some of them I talked with had nothing more than 3-4 days of notification.

I came to know about this yesterday and I spoke to few people. As far as some PRs who have made arrangements for the booth and to gather the stuff they wanted to show around. Payments were made and some had to fly in "exclusive" tech hardware to put up a display in MMRDA grounds. The reason seemed vagued but the company personnel were not very happy especially for the fact that they informed days before it was supposed to happen.
"We kept some new launches before sending it to the media companies for the usual reviews/showcasing and even insisted to send some exclusive new release to showcase it. IT expos in Mumbai is very important than having in Kolkata or Chennai because usually gets lot of Media guys, bloggers and assemblers/dealers interactive with us and our products. But now since this is cancelled and we have spent money for the booth and for setting up items like posters, banners, transport and even bearing shipping costs, we simply frustrated that this is not only delayed but also moved to another city." were the words of a PR agent who handles 2 tech hardware companies and 1 software tech.
He continued, giving a slight hint that they will be skeptical in doing any IT Expos of any kind simply because the costs are too high. "We spend a lot of money on press launches and we have to spend a lot of time and effort to coordinate with everyone to attend the launch, even at times arrange transport. I wouldn't be too confident in doing expos from here onwards. As it is the logistics companies are not very competent in handling such packages even after labelling them."
The time gap was way too short to stop making arrangements. Usually such practices does tend to leave a bad taste. This might not be appealing to the general consumer- and to some extent- power users. But there have been many people- running from a small-to-large business attend to see what's new.
Event management for tech (or any) expo and at times gaming tournament does get series of delay in a very messy way for more than 1 reason. I've seen messages from Gaming event organisers' facebook page (Like Xtreme gaming) who said that the World Cyber Games, a nationwide qualifier that usually takes place across many cities to be taking place only in 1 city.
I've recommended a friend who runs a company that assembles and delivers out of the box for clients with specific performance needs. This way he can meet and interactive with the respected company marketing/sales guys so that he can get hardware that usually not available here. After all, according to a conversation between a distributor and one of the memory manufacturer, the response is that no type of users will have any use of anything more than 1600MHz CL9 and even high performance hardware in India. This was the one of the few ways where manufacturers can have a face to face talk with End users. Not all companies can spend a lot of money on hosting Power Users meets- like how Asus did.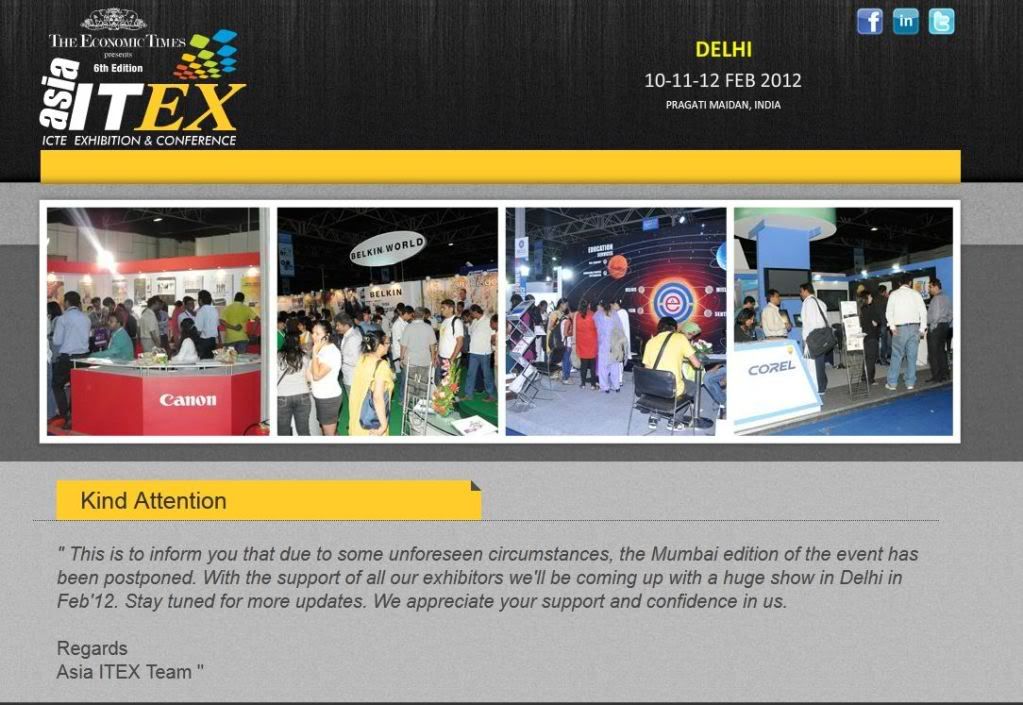 Sadly to rub salt to the wound, the expo is delayed to 10-11-12 Feb 2012 in Delhi. If there was a time you didn't want to be in any of their shoes, its probably now.
There wasn't real reason was being told, but just like gaming tournaments where chaos gives opportunities for blame game, usually they would blame one and another. Sometimes the blame goes on the event managers and sometimes on the sponsors. To be honest, I was wondering why such an expo (usually on MMRDA ground the expos that are hosted is pretty big- like COM IT expo 2007
and the PlayStation experience again back in 2007. I still remember Asia IT expo 2008. Back then this expo was pretty much a dud, as half of the space was used to display office furniture, sofas, recliner seats, Sofa-cum-bed and bean bags.
We can learn a lot from International Expo and Conferences. But if someone takes a step back in their commitment, a lot of hosts are not going to be happy about it.
Yeah, if some of the readers are "concerned" we're still far away from seeing real booth babes in IT expos in India. We still have a very very long way to go in regular flow of smooth expos with new releases and proper showcase, let alone booth babes. I hope such incidents do not happen on regular basis, or else many will question the potential of having expos and gaming tournaments in India. This is how tech is unfortunately gets discourages in the process.