The story goes back when I came to techenclave.com as a hardware noob. I didn't know that a good community was there which was more emphasizing in Overclocking for performance, more then the forums that I was in which doesn't exist anymore. my elevation in the upgrade bandwagon taken off first when my msi rs480 and a heavily damaged 3000+ died on the spot, maybe due to jealousy. So I decided to restart my goal in being a reviewer and a writer-that's what I wanted to. This is the Techenclave exclusive-ladies and gentlemen….the show stopping messiah for those who are begging for a screen upgrade since the 15 and 19 inch Pot belly CRT (like myself)-the legendary Dell E228WFP!!!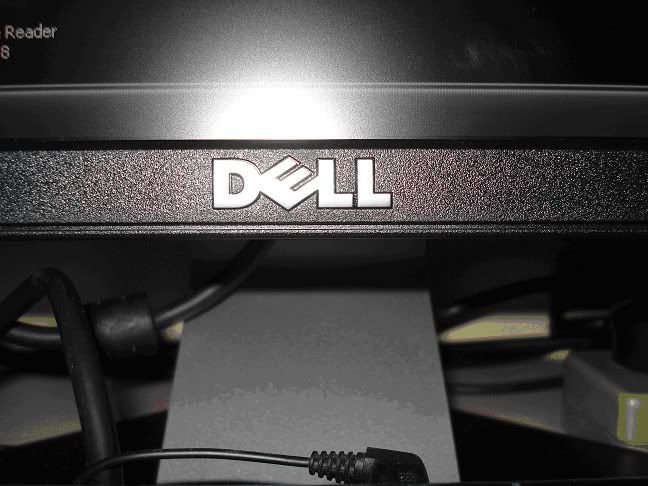 Now this screen is amazing for a 22 inch along with a 22 inch article in Samsung's ranch which is wonderfully written by one of the members.

The packaging:
I am starting off with packaging. Now I was getting this screen in grey market for 12k, according to a reliable source (but not from my crazy friend or else I would have bought it from him). I got a discount coupon code which appeared to be torn from a magazine with a $105 +5 year free replacement warranty from a friend as a farewell and a very advanced birthday gift before she goes away to London. Like all women they say with such great honor in a sarcastic way "oh I already have a liyama prolite 19 incher to satisfy the gameplay with wii". Anyways as promised, I thank her on a website (aaah you didn't say which website now did you?). So I shaved off 5 grands and got 5 years of warranty upgrade for 13.5k no more then that.
Most important thing is packaging, especially if it's ordered online. "Dell can be ordered online if you want with warranty" was the answer I got when I wanted to check couple of places, but it was in vain. I made the order and noted down the details and checked it after 2 days and it seemed to have cleared the customs. By the way, I got this screen in a staggering 5 days in Mumbai from Chennai and the guy brought it to Bandra via taxi all the way from chembur (yes he did). It was shipped from Malaysia by unifreight and brought from Chennai to Mumbai by AFL, according to the papers I got with me. I don't know about their service, which did concern me a bit. But that was cleared off after seeing the packaging.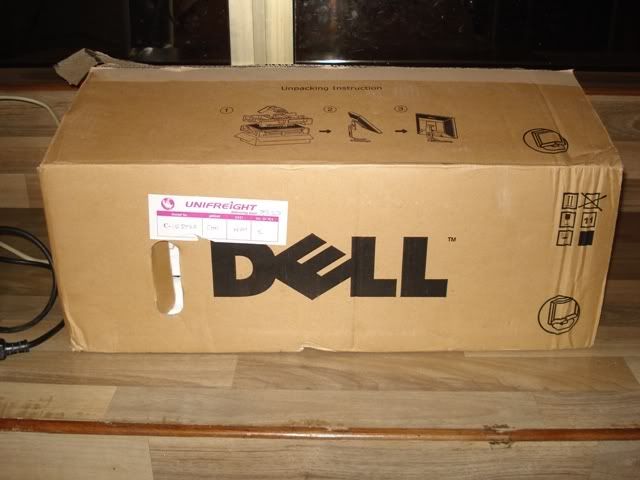 The box is pretty standard and mediocre, but it's inside protection what counts. I didn't take the picture while the stuff was in (due to excitement) but a photograph was there outside the box which was self explanatory.
The stand was wrapped in a better quality plastic protection and well secure on the top of the Thermocol box.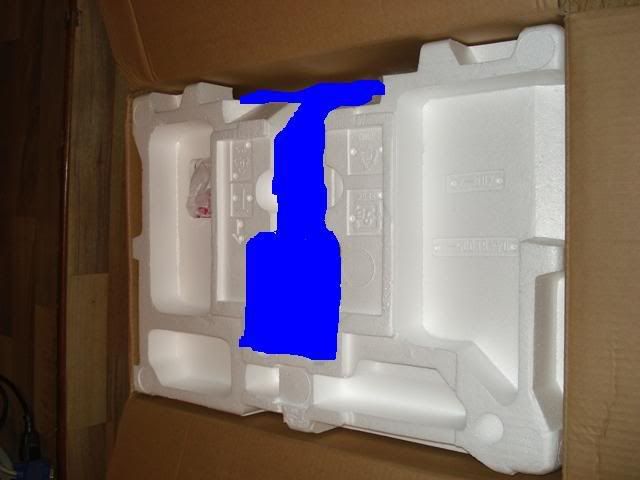 Now I know my graphical recreation is bad, but it should give you a great idea, the stand goes deep into the Thermocol that it needed to be removed with two hands-one on the side and one from the top. The stand protection convinced me hands down. The stand won't budge, nor get scratched. However, I wondered why on earth did they pre attach the vga cable when the dvi cable was in a plastic cover. It is more like strange then a con, I wonder if other screen does have this thing. Do they automatically assume that the user will use only vga? My advice-don't do that dell.
The face of the screen was facing on the Thermocol which is inside the box. This Thermocol on the box was tight packed and was bit of a mess when I tried to remove it, but I decided not to. The screen was firmly nestled inside the cocoon. Easy to remove, but wouldn't budge from the box when shaken.
Still being on the base, this Thermocol is strong and thick, would be able to withstand more then couple of punches from me.
Overall the packaging is great. Dell does take a form of pride when they make a product and sometimes you see these reflections when you buy a product. Being a former Dell tech support, I used to think dell computers suck, but say dell screen rules.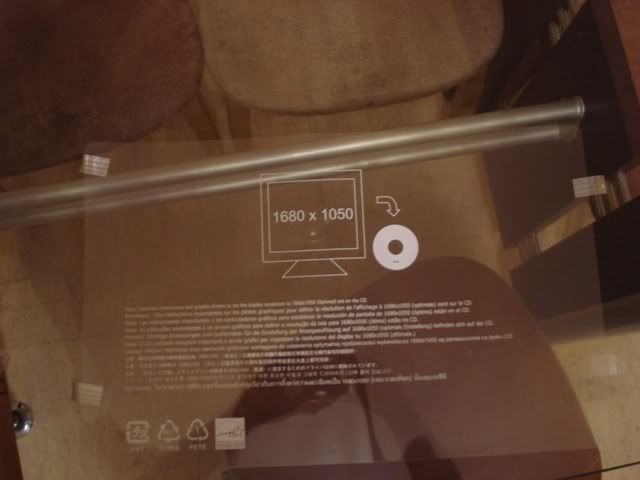 They did put strong taped plastic to protect the screen. It is also good that they indicated 1680 x 1050 but some people prefer putting the plastic screen attached for a long time so they would have wished there was no writing on the sheet. I wished they gave a lint free cloth with DELL written on it.
Dell packaging gets a 5/5 and a great thumbs up for reliability in packaging.
Manual, Compact disc and other short stories
But what about the instruction manual and cd?
I didn't understand this exactly. The site told that it was assembled in Malaysia when the sticker on the screen says made in china. But I am getting a manual completely on Thai!!!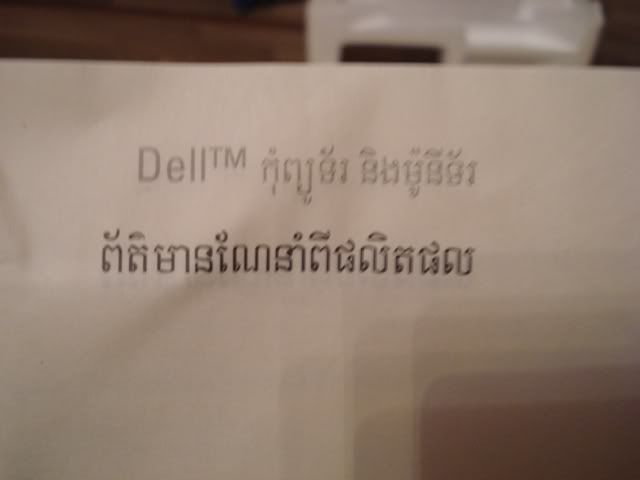 How can I read Thai??? This is pure Thai. There was one more manual in colour but this one had something regarding power cable and stuff.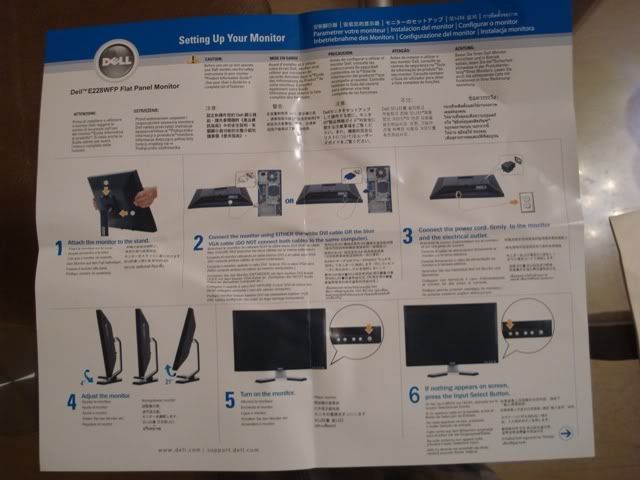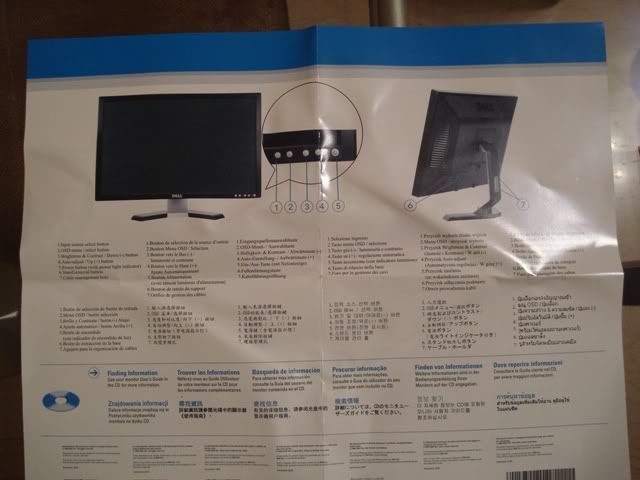 They had one sentence per row in English. That's nice, but what about the other one???? It doesn't make sense.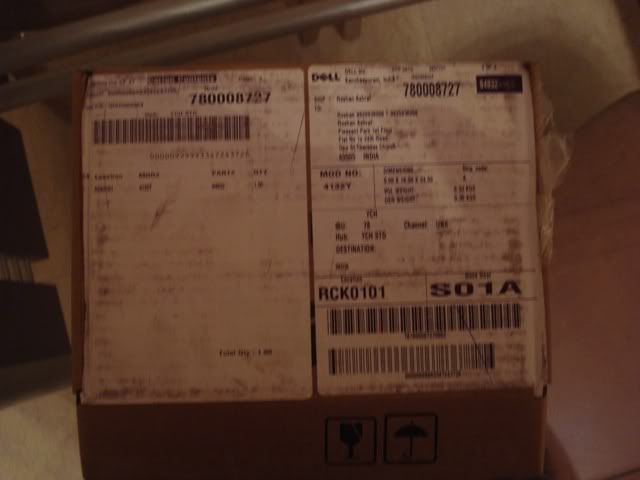 What also didn't make sense is why the heck are they selling the power cord separately on the monitor? Why can't they just put it in the package? It's a silly little thing called common sense!!! A first time buyer will need a power cord. I don't know about other manufacturers, but they should include the power cable within the package, not in a separate box. Wouldn't this clear out Delivery confusion since many people are ordering screens. This shown that Dell parts, accessories and power cord is made from different part of the world but with the same order number. Just include the damn power cord together. P-E-R-I-O-D
The CD
If you're a typical CRT user, you will say "who needs a CD right?" Wrong. I found this out when I wanted to see how medal of honor: pacific assault looked like. When I was calibrating the game screen resolution before loading, 1680×1050 set up wasn't there! So out of concern, I checked need for speed: underground and underground 2, they both had it, but it wasn't exactly upto the mark. The game Medal of Honor looked good on resolution at max capacity of the card which was 1680x 900 at 60 Hz.
Either I missed out on something, or maybe the dell version of nvidia driver had "mystical power" which passed under my nose.
The stand- "hold me tight"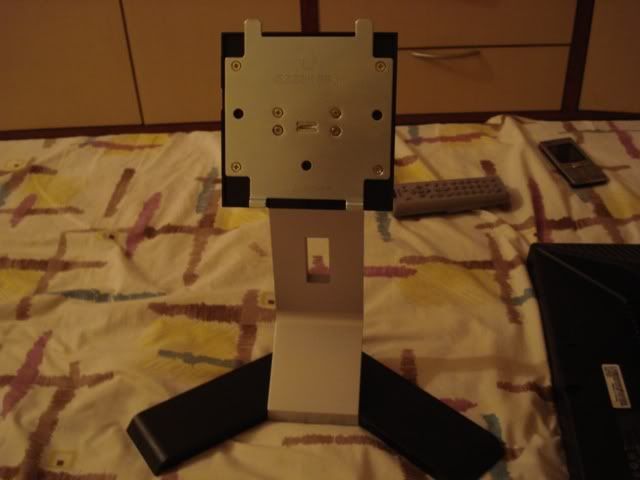 Though these versions of dell screens have V shaped, it is a very secure V shaped stand. Quality of the plastic used is as strong as it can get, securing the screen to make sure doesn't "fall off" and it's the same used for the dell frame. Dell has a good way of explaining things with pictures and arrow marks. To cover the whole "worst case scenario" the metal hook stand is bolted with 8 screws placed in strategic positions. Also there is a rectangular hole which give generous help to re-route the DVI, power, analog cables and even some more. The silver plastic work in the middle is a nice touch and gels with the matte-style body, base and the silver DELL sign.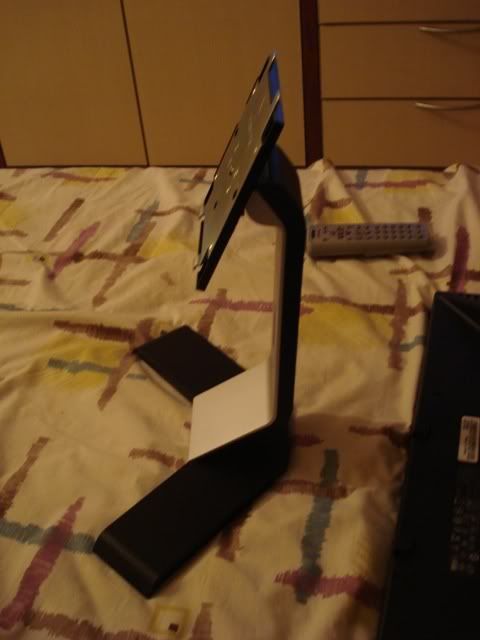 The Dock-"beam me up scotty"
The dock space in the back panel is the same story-no surprises there. It seems that there is some sort a stainless steel re-enforcement behind the black bezel to secure the stand. The screws are attached on the stainless steal on standard four corners.
Inorder to eject the stand, there is a button which needs a strong push. It is a better idea then pushing the screen up and removing it like a photo frame. So it's all well and good. Overall, dell scores it well. I know the screen's only movement is adjustment of monitor 4 degrees down and max 21 degrees up. It doesn't circle round and round, but that is of no use-to some people.
The screen:
Reviewing screens is tough part for me. Though I read as many reviews as I could, there are certain things which I didn't get it right. Since I have just evolved from a 15 inch bucket to a sexy mama who compliments the chassis, bear with me. The screen has 160 degrees vertical and horizontal viewing- but I care less about this. Some will brush this sentence away since People who will be buying this screen, would be mostly of personal and gaming use. Besides, since they did mention on the site as "entry level" screen, it should be considered and reviewed like one. Certain people complained about the height which I definitely don't think it's a con. Infact, I think this would be one of the best screens if you game and watch movies on. The 1680×1050 is greatly appreciated for this 22 inch screen. There were certain posts on some forums that the picture "didn't tear up" when the resolutions was expanded, but lets not go there. This screen offers 300 cd/m2 brightness and 800:1 contrast ratio. Though this is a 6bit panel which has 16.2 million colours, it still didn't matter. The best entry level 22 inch heavyweight slobber knocker. Playing racing and First person games is a treat.
The connectors and ventilation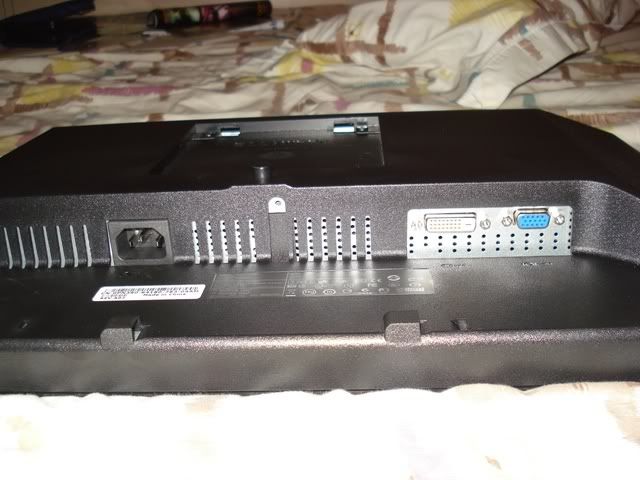 There are 2 connectors in this screen-a vga and a DVI port. They don't have extra add-on like a card reader or usb adapters, but it's all well and good. What I really wish is that screen should have had an hdmi port. The screen has the auto detect feature which is nice but would be really nice to see a hdmi port which will make this screen an instant hit for people who want a good setup and hook up their hdmi capable dvd player, like my sony. The reason I am stressing on hdmi is that they could have included this easily on the absence of the usb and card readers, even though this is an entry level screen. Sure, you DO get a dvi-hdmi cables but I don't think dell could compromise the budget put out for this screen if they put the hdmi cable port.
Both the connectors are placed together on the left hand side of the screen-conveniently placed away from the power source. There are lots of air vents around the connectors which is a good idea. And speaking of air vents
Ventilation:
Dell has made ample amount of air vents not just on the bezel but also on the inner steal frame. These air vents will keep the precious inner circuits cool and airy for a long time. Dell's quality is shining every time I am writing this review.
Certification bandwagon: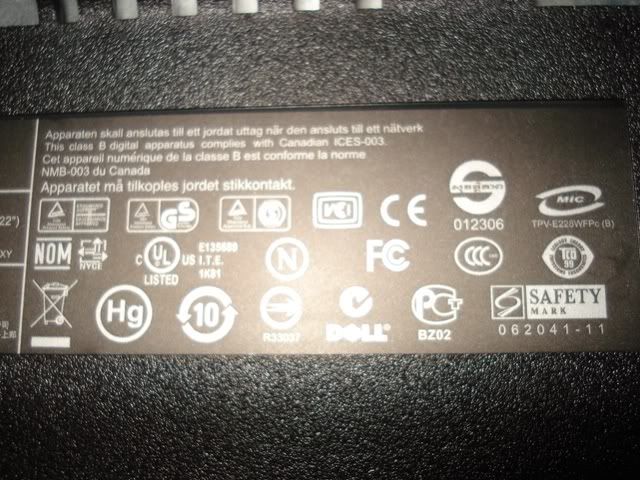 We see companies bragging about certifications a lot in India and the latest one calling is "windows vista certified" which I think its pretty silly-people also use Mac and Linux. Dell considers this barely a bragging and more like doing windows an obligation. So they just mention it in some dark corner and forget it, as for the windows vista certification-to hell with it. At the back panel, dell has put out in a place where most people would ignore seeing it. But dell will do their job and show the safety mark. Maybe they should get the ISO mark too if they happen to manufacture screens in India- hey anything is possible.
The hippies Vs. The ultimate: CRT Vs. LCD
I know I am embarrassing the CRT with its replacement, but that is how the world works sadly. BEFORE I depart the screen farewell, this is what I want to show.
I have seen certain reviews making a con that "the screen cannot adjust the height". So I decided to show the height comparison.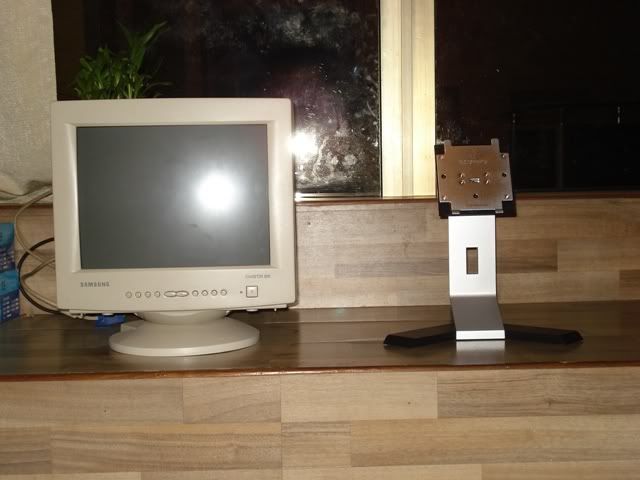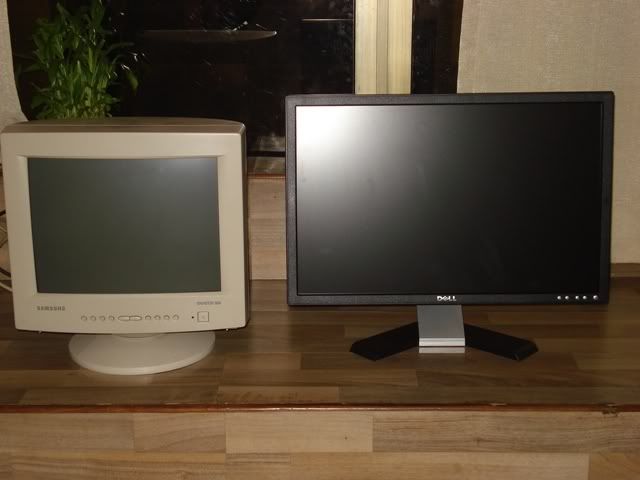 On comparing the screen's height, if you try to mentally remove the screen's frames, they both seem to be in the same height. So it's a good thing. If you are comfortable using the CRT on this height, then you won't be feeling any difficulty. Since this is a streaked version, all you can do is change the viewing angle horizontally.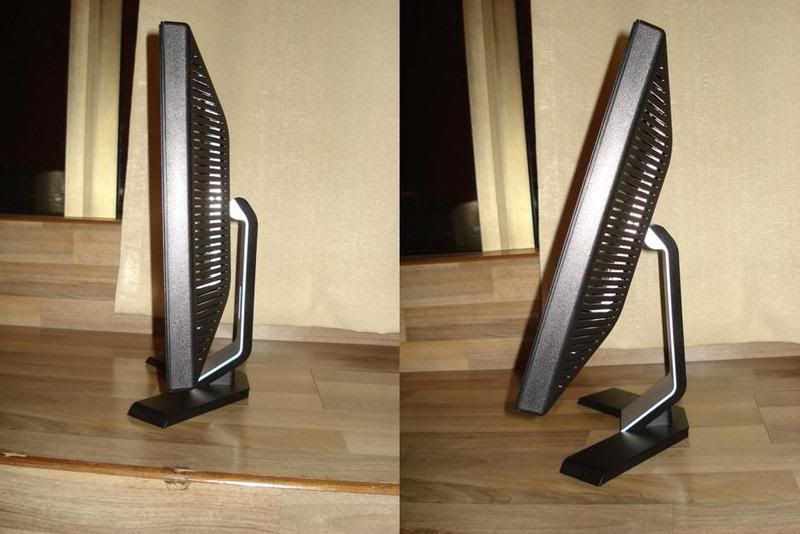 If you're viewing from the sides, it is when you see TN panel's signs. The side viewing is not good at all after a certain angle. But this is a 22 inch screen. Most of the buyers should be aware of this. Maybe there is a screen which has better viewing angles-I don't know. Again I wouldn't consider this as a con. A compact 17 inch to a luxurious 24 inch could accommodate 1-4 viewers standing behind you. Silly it might be. This is one of the best TN panel, and it's great. Some people would prefer 2007 wfp- but for gamers, this is the screen and the money spent is worth it. For general users-this is a luxury. I love this screen since it's a pretty fast 5 ms. I wish I had a respectable graphic card and a good game to showoff with screen shots, but my temporary financial crunch doesn't let me do so.
Calibration: no words necessary
Calibration- one big thing with LCD screens. I didn't understand why calibration was that bloody important in LCD. So I had to check out myself. When I got the screen, it displayed on 1024x 768 resolutions. I changed to the screen's resolution. So it was the same. No pink, green and yellow hocus pocus. I wasn't able to see any ghosting. So I thought I am the lucky person to get a good colouring….no!!!!! I was seeing one of the review video audition tape I made (it's a long story) and it didn't look good. Infact, it was green-alien green. So I was searching raghu's screen calibration setting-and it worked-to a large but limited extent. That's when the ghosting issues came, disappeared magically and I didn't understand how! It came on the lower left hand side, and it was a concern since it looked as if it was expanding. But then, all of a sudden-whoop!!!! It's vanished. The screen was flawless again. I switched off the screen and switched it on after 20-30 minutes thinking it might be fluke-it wasn't. Tried after a day, it didn't. So I got an idea, I changed from DVI to VGA cable. Again it was flawless. I played some vcd, DVD movie, my home made video, the game video and some games. It was as same as the DVI. It seems that each screen has individual issues. People claimed atleast it wasn't as bad as other screens like viewsonic (hey don't flame me, that's what the peeps in forums said and its non-Indian). I heard issues like Ghosting came only when I use vga cable or it blurs the photos a bit so it won't be photographer and graphic designer's cup of tea. So it had to be individual issues! Buyers luck I suppose. In any case, buyers still seem to be happy with the screen.
The buttons were placed comfortably in the button right corner of the frame. The buttons are strong and of good quality, not like those fiddly ones which companies now-a-days consider them as "one touch". The first button is the input-digital, analog and auto detect. This is nice that they put a dedicated button for this. The options buttons was basic and to the point, but for some reason I couldn't use auto adjust, positioning and image settings, it was greyed out. I tried to do with the vga cable, and it they were highlighted. So I understood that DVI cable takes care of the issue automatically.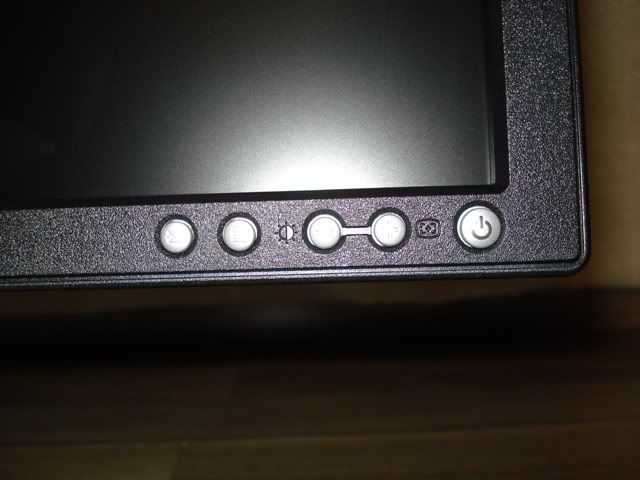 Applications
This is written on a font size 12 and it was clear. The screen is big enough to squeeze in 2 a4 size in a single screen.
The last font size which is bearable to read is size 7 and that's a clear size 7.
Conclusions-laying down the plasma gun
I wanted viewsonic 19inch 3 months ago, but I remember funky was giving away the 22 inch screen for 18 grands. WOW NOW THAT'S A DEAL. But now I got this screen-5 year warranty for 13k with the octroi-now that is out of this world. All thanks to a coupon. But you will get deals now from guys like thebanik and Ragu. This screen is a crowd favorite and it will be for a long time. The only con it deserves to be highlighted is the freak ghosting issues which disappeared on day. I wish they had put an hdmi port considering the fact they scaled out a lot on this screen. This screen will be there with me for 4 years hands down no questions asked. Maybe more. Hey I lived with a second hand 15 CRT screen for 6.5 grand since 8 years. For me, I bought this screen for size, but I got more then what I bargained for. The screen gels well with configurations perfectly. To run a small test with the customer care, I told them that I made the order but I didn't receive any quotation number, track id number or anything like that. The customer care, with no hesitation, called up sales and got it out. To test the email support, I did the same. They emailed me the track id number the next day. I loved it. I didn't expect this from a support from an Indian to an Indian considering managers expect ridiculous stuff in international call centers but unfortunately we don't expect all that in domestic call centers other then cheesy lines. If they keep exclusive showrooms, crowds will come up and sales will increase. However, by the looks of things, dell India is not worried about sales.
Other then what I mentioned, this is a TN panel with the best colour reproduction on the 22 inch divisions. It has 5 ms response time. This screen is a crowd favorite-the GO orders and fast delivery is proof. Looks good for movie, gaming and checking out your home made videos and photos too. Gaming is awesome with this screen. If you're not comfy with the individual screen issues, you can always ask for a replacement. But I really wish they had a HDMI port, I would have loved to hook up my DVD player on this.
For the screen it's 4.5 out of 5
For the service it's 5 out of 5
For packaging it's 5 out of 5
For the stand it's 5 out of 5
For contents and freebies its 2 out 5