Some months ago, Tim Handley post with a huge box unofficially nicknamed as "OMG ATX" formfactor and certain sources revealed that to be a P67A-UD11.
We had an interview with Tim Handley and one of our guys asked a question to tell us more about the much rumoured P67A-UD11 otherwise nicknamed as the OMG-ATX form factor other than what some people already know and BOY!!!! He said it in his own way: Dude, the cake is a lie!!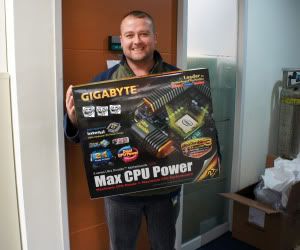 I know the the sound quality is bit bad all thanks to the background noise but Tim Handley says it clearly "Well…that is just a joke. We had some journalists from the U.K. in our office and we had a big box in display. The size of the box catches your eye. As far as we are XL-ATX is as big as it goes!!!"
You heard this one first from Hardware BBQ. Stay tuned for the complete interview video and the Gigabyte
India
conference videos planning to put up very soon.